Top 10 Cars for Bad Credit
By Matt Clayson, 4/11/2019
Don't let your bad credit hold you back. Buy here, pay here. Get instant approval. Budget-friendly cars. Guaranteed car loans. No credit check car loans. Car dealers for people with bad credit. Everyone approved! 100% acceptance. 0 down. No job, no problem!
We've all seen the neon signs gracing dealership after dealership. We've all watched the late night ads narrated by the energetic guy in a cheap large format plaid suit. And we know what happens next. A car we never really wanted with a payment that we could never really afford. Repo-man takes the wheel.
Fortunately, there's another way. While it involves some advanced research, some time online and a few over-the-phone conversations with dealerships, it is worth it in the end, as it places you, the shopper with bad credit, back in the driver's seat, getting clear, honest pricing on new vehicles that fit your budget.
Now, I've long been a payment shopper. I look at my monthly budget, set aside an allowance for transportation (car payment, insurance, and gas) and then use various online tools to create a list of vehicles with features that I like and payments that I can afford. I call dealerships prior to visiting, verifying that the pricing I received online can be honored. I request the quote to be verified via email. And, only then, do I visit, with my online quote and substantiating documentation in hand, ready to walk away from the deal at any time if there is any funny business that doesn't square up.
I've always opted towards leasing new vehicles because I value the financial predictability and peace-of-mind that a manufacturer's warranty can provide. And I do not like surprises. I can plan my finances around a $225 / month lease payment. I cannot plan my finances around a $150 / month car note and an unexpected $1500 service cost for a busted transmission and a missed day of work resulting from a vehicle that is out of service.
And, fortunately, there are plenty of affordable vehicles and/or zero down / low monthly payment deals available for shoppers with poor credit. Below is a list of a few of our favorites. Keep in mind that these are listed for editorial purposes only, and that payment amounts vary from city to city and from shopper to shopper.
#10.
Jeep Compass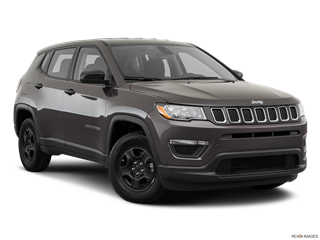 [PRO-TIP: ask about leasing specials, as Jeep remains one of the more competitive brands when it comes to zero-down, low monthly payment leases]
Sitting between the Jeep Renegade and the Jeep Cherokee, the Jeep Compass has been entirely redesigned for the 2018 model year. With interior and exterior styling referencing its larger Jeep Grand Cherokee sibling, the Compass is distinctive: maintaining an aggressive stance, a spacious cabin, and surprisingly refined interior finishes. Its steering wheel is substantial and beefy, providing the driver with a confident and in-control feel. Touch controls for entertainment and climate control systems are intuitive and responsive; Apple CarPlay and Android Auto are standard, so don't let the dealership try to talk you or your teenager into an expensive – and unnecessary – navigation system. Rear passenger seating is comfortable and rear cargo space accommodates sporting equipment, music instruments and anything else needed for a life full of friends and extracurriculars. Power comes from a 180-hp, 2.4-liter four-cylinder, an engine that delivers enough pep when pushed, perfect for driving to school and after-school activities. The ride quality is firm and confident. Standard safety features include 4-wheel drive, multiple airbags, anti-lock brakes and everything in between. Available safety features include forward collision warning, lane-departure warning, and blind-spot warning.
#9.
Honda Civic
[PRO-TIP: We know we said we liked new vehicles, but when shopping a Civic, we suggest going used. You'll save on monthly payments and insurance, and the thing is basically guaranteed to run-and-run-and-run with minimal maintenance].
This car is for the driver who could care less about looks or third-party validation. Your car is a vehicle to get you from class to home and back. You value dependability and reliability. And, like a trusty dog, the Honda Civic has served as a reliable standby for generations of sensible, pragmatic shoppers looking for an easy, efficient car that runs and runs and runs. Just think of how many 2000 era silver Civics you see on the road today, obediently transporting their owners from place-to-place without worry or concern. While the 2019 Civic won't win any awards for its styling; it gets props for a base engine that is efficient and reliable, a stable ride and an interior that has a lot of storage space for its class. Available in coupe, 4-door sedan or hatchback, the Civic has a body style for every need. Need some spice? There is a 306 hp Type-R version that will have your teachers mistaking you for Vin Diesel when driving in for the first hour. As an added, but not surprising, bonus for parents: Honda rates amongst the top brands in J.D. Power's 2018 U.S. Vehicle Dependability Study.
#8.
Toyota Corolla
Redesigned for 2020 and ready for your life, the Toyota Corolla is efficient, stylish and spacious. Powered by an ample 1.8-liter four-cylinder engine, the Toyota Corolla delivers a sporty ride and excellent fuel economy without sacrificing space or style. It is one of the few cars that still offer a 6-speed manual transmission, perfect for the shopper with poor credit who is a driving enthusiast and wants to shave another $1000 or so off the asking price. For the environmentally conscious shopper with poor credit, an affordable hybrid version of the Toyota Corolla is available, combining the standard 1.8-liter engine with an electric drive system to deliver a combined output of 121 horsepower.
#7.
Mazda CX-3
Compact, sporty, affordable yet solid and substantial, the Mazda CX-3 delivers agile, fun-to-drive handling; a confident feel; impressive safety features and good fuel economy. Distinctive 18-inch wheels are standard on all models but the base; styling is aggressive and modern, evoking queues from niche premium brands such as Range Rover and Alfa Romeo without the eye-popping mark-up. Powered by a peppy, 148-hp, 2.0-liter four-cylinder and a six-speed automatic, the CX-3 is a smooth in the city and capable on the highway – good for getting to and from school, going back and forth to practice during evenings and cruising the beach on the weekends. The infotainment system includes a 7-inch center display screen, which is large for its class. A rotary knob that controls phone and audio functions can be clunky at times, especially for a teenage user who is used to responsive touch screens. The rear seat is tight and cargo space modest; don't be looking to do long road trips with friends in this vehicle. Nonetheless, looking to move up from riding the bus and getting from home to class in style, then the Mazda CX-3 is the car for you.
#6.
Dodge Charger
[PRO-TIP – FCA (e.g. Dodge's parent company, Fiat Chrysler Automobiles) loves to basically give these things away on lease. If you're paying more than $250/month for one of these adequately loaded, you're getting a raw deal].
You have finally landed that good job that is paying well. And you want to reward yourself with something fast, fun and loud but that does not sacrifice safety or efficiency. Packing aggressive, in-your-face American styling and powered by Detroit-muscle, the Dodge Charger puts you in command of the road and your image. The Charger is big and it is comfortable, delivering a smooth ride and a quiet cabin for you and your friends. Powered by a 3.6-liter V6 paired with an eight-speed automatic transmission, the Charger is confident and responsive. Dealing with all-season climates, all-wheel drive is optional, as are automatic emergency braking and lane-keeping assist.
#5.
Buick Regal
[PRO-TIP – don't get MSRP sticker shock - these things lease really well, with zero down options available. Hatchback versions are classified by many insurers as SUV's, commanding lower premiums].
The Buick Regal is a car that is sporty, distinctive and is packed with advanced technology and safety features that will please the most tech-minded teenager as well as the safety conscious parent. Powered by a European inspired 2.0-liter, turbo four-cylinder engine, the Buick Regal is engaging as well as efficient. Friends and family will appreciate the Buick Regal's comfortable ride, firm seats, and quiet cabin, where road, wind, and engine noise are well-muted. Parents will be glad to know that the Buick Regal's handling is responsive and confident: grippy with little body roll, confronting everything from bumps and potholes to fast stops and quick moves with ease and elegance. Handsfree texting and dialing? Google or Apple Maps navigation? Of course! Android Auto and Apple CarPlay compatibility are standard, so don't get talked into any navigation system upgrade, which can add $500 upwards to any purchase price.
#4.
Kia Sorento
[PRO-TIP: Kia is right up there with Chrysler and Jeep when it comes to competitive leasing. Want a low monthly payment and not seeking the commitment of ownership, then explore 24 and 36-month leasing options you're your local dealership].
Seeking a midsize SUV at competitive lease rates, then the Kia Sorento is the car for you. Packing more value per pound than its Toyota or Honda competitors, the Kia Sorrento continues to be top shopper choice in the midsized SUV class when it comes to a car that balances value, cost of ownership and reliability. For those wanting to make a statement without sacrificing reliability, the Kia Sorento offers styling is more modern and aggressive than the Toyota Highlander or the Honda Pilot. Packing three-rows of seating and powered by a standard V6 engine with an all-new eight-speed transmission, the Sorento is a good choice for an active family looking to be transported worry-free and in style. And speaking of worry-free experiences, Kia placed as the highest ranked non-luxury car brand on J.D. Power's 2018 U.S. Vehicle Dependability Study.
#3.
Chevrolet Cruze
[PRO-TIP: General Motors, Chevrolet's parent company, is discontinuing the Cruze, which means there will be deals to be had. Be sure you go to the dealership armed with all recent incentive and rebate information]
The Cruze is a fuel sipper that looks good and drives well, perfect for the teenager whose parents value affordable and efficiency. It tracks between 37 – 48 MPG on the highway and between 28 – 31 MPG in the city. Its trunk is spacious, as is seating, which can accommodate up to 4 friends and plenty of gear. A 153-horsepower engine provides adequate power and engaging, responsive driving experience. Handsfree texting and dialing? Google or Apple Maps navigation? Of course! Android Auto and Apple CarPlay compatibility are standard, so don't get talked into any navigation system upgrade, which can add $500 upwards to any purchase price.
#2.
Chevrolet Traverse
[PRO-TIP: Don't let the MSRP range give you sticker shock. General Motors, Chevrolet's parent company, loves to lure buyers with incentives and rebates. Interested in the Traverse and ready to buy or lease, then be sure you go to the dealership armed with all recent incentive and rebate information]
In the case of the all-new, redesigned Chevrolet Traverse, bigger is definitely better. Combining a quiet interior, a very comfortable ride, and responsive handling, the Traverse is a viable alternative to full-sized passenger sedans such as a Camry or Accord. With three rows of seating, high ground clearance, and an upright stance, it is a much more affordable alternative to many full-sized SUVs, such as the Chevrolet Suburban or Ford Expedition. Its 3.6-liter V6 engine combines ample power and quick acceleration with decent fuel economy - 20 mpg overall. Rear passenger seating includes comfortable second-row captain's seats and a roomy third-row bench seat. For those seeking a real people hauler, an eight-passenger configuration is available. An intuitive infotainment system rounds out the driver and passenger experience. Available on top trims levels are a forward-collision warning and automatic emergency braking. For those shoppers with teenage drivers in the house, there is an available system that monitors teen drivers and a rear-seat reminder designed to prevent a small child from being left unattended in the Traverse. Combine space, comfort, and value, the Traverse is a perfect vehicle for the Uber or Lyft driver who wants to serve business travelers and large groups over longer distances.
#1.
Nissan Rogue
The 2019 Nissan Rogue is affordable, easy to drive, spacious and quiet. Nissan has a good thing going here, and it knows it. And for 2019, Nissan is not fixing what is not broken. Ranking as one of the top 10 best-selling vehicles in 2018, the Nissan Rogue keeps its 2.5-liter four-cylinder engine and variable transmission. Exterior and interior remain unchanged, sporting architecture and styling almost entirely indistinguishable from what it sported during its second-generation launch in 2013. Again, why mess up a good thing? Standard safety gear includes lane-departure warning and prevention, forward-collision warning, and automatic emergency braking, ensuring driver and passengers are reliably transported from one destination to the next. A good choice for stop-and-go traffic, the 2019 Rogue also includes steering assistance and active cruise control. Topping the list of reliable features and durable styling that persists is Nissan's dependability rankings, which J.D. Power has recognized to be class-leading in its 2018 U.S. Vehicle Dependability Study.