Top 10 Cars for Dog Owners
By TODD RIDLEY, 1/30/2019
If you're a dog owner, like I am, then the choice of vehicle you drive is pretty important. Having said that, just because you care for one or more of these lovely creatures doesn't mean you're doomed to drive a cheap SUV or hatchback.
17 years ago when we adopted our first Springer Spaniel, I was driving a Jeep Liberty. That car was the one, in my lifetime, that ended up being a nightmare to own (no anti-lock brakes, no-slip differential, base model, poor quality, cheap plastics). It was also probably the best option for a new pup father.
Springer's are messy and rambunctious. So no wonder that car was good for Sam, and later her brother, Quinn; I didn't care that they scratched surfaces, drooled on the polyester, or smudged the glass with their wet muzzles. Hell… I think I washed the car just 2 times in 3 years.
If you're a dog owner, like I am, then the choice of vehicle you drive is pretty important. Having said that, just because you care for one or more of these lovely creatures doesn't mean you're doomed to drive a cheap SUV or hatchback. Also, dogs come in many different sizes and types; 5lb tea-cup poodles to 150lb Great Danes, and dogs who shed and those who don't.
For this first Top Ten list of cars for dogs we're going to give you an array of vehicles across multiple body styles. In the future, tune back in for similar lists for very large dogs and those smaller friends.
#10.
Volkswagen Golf SportWagen.
Let's kick this off with what I'm sure is a good guess for a manufacturer in this category: Volkswagen. This people-pleaser brand has been a favorite of families for decades. So no wonder the 2019 Golf SportWagen is included on our list.
Sporty, stylish when configured a certain way, and conservative when standard, the SportWagen is a great choice for those pups who need help jumping up into the car. As a wagon, this Golf model offers a wide, low tailgate. Folding down the seats offers 66.5 cubic feet of cargo area for your pup to play in. Durable plastics in the car, durable cloth seats come standard… all good for animals. Options for the wagon include a deep, rubber liner for the rear floor and rear-seat covers to protect your car from your pet's nails and hair. High tech features round out the car and include an 8" touch screen that offers apple carplay and android auto, available Fender® stereo, rear traffic alert, and blind spot monitoring.
#9.
Land Rover Discovery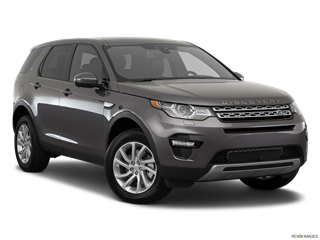 The 2019 Land Rover Discovery is a polar opposite of the SportWagen in every way. This car screams privilege and luxury, yet is made for the poodle on the lap or the mastiff in the rear cargo area. With a power liftgate, you can load your pooch, hit the close button and be in the front seat before fido will know what hit him.
With all the luxury conveniences expected in an SUV of this price, including LED headlights with signature DRL with Auto High Beam Assist (AHBA), power fold, heated door mirrors with memory and approach lights, automat headlights and rain sensing windscreen wipers, The Discovery delivers more. 360 Degree Parking Aid system is useful for dog owners who can't see well to back up, and a full panoramic roof lets your furry friend feel unencumbered. The 60:40 load through rear seats allow you to choose how much room you need in the back. The 3rd-row option with the largest SUV cargo volume in our list here, when folded down, the 2019 Land Rover Discovery offers a whopping 88.3 cubic feet of space for, well, many mastiffs!
#8.
2019 Ram ProMaster Window
If your version of Man's Best Friend goes to work with you and, let's say, you work on a ranch or in the country, you'll probably need a pickup truck. Our pick in this vehicle segment for our list is the award-winning, beautiful 2019 Ram 1500 Promaster Window.
Given the Best In Show at the 2019 NAIAS in Detroit just this January, the Ram 1500 takes pickup trucks to the next level. Soft textures, opulent leather appointments, and stylish curves great you on the interior. Softly chiseled, yet strong, design on the exterior present a powerful image. The truck offers the best of modern automotive safety and tech, including Uconnect® 3 with a 5-Inch touchscreen, voice command and Bluetooth® Streaming Audio, and ParkView® rear back up cameras to name a few… all standard. Nicely trimmed out at the high end and you can get some amazing tech: Uconnect® 12.0 with Navigation and Largest-in-Class 12-Inch Touchscreen, Power Running Boards like those in the Lincoln Navigator, Blind Spot Monitoring with Rear Cross Path and Trailer Detection. When opted for, the available 19-Speaker Harman Kardon® Sound System will blow you away with award-winning and best-in-class sound. 19 speakers in a pickup truck cab!
For the Fido who may be choosing to ride the ranch in the bed of this pickup, there's an available Bed Utility Group that allows you to fence off areas. That way you can haul heavy duty items and let your pup stick it out back there in safety.
#7.
Volkswagen Atlas
If you're looking for an SUV/CUV but don't want to shell out the bucks for a Land Rover, the 2019 Volkswagen Atlas is a fantastic option. In many ways it blends the best of the first three in our list together; affordable, rugged and luxurious-enough.
Introduced in 2018, the Atlas replaces the long-vaunted and more expensive Touareg. The 2019 Atlas offers up-to-date safety and tech like 4MOTION® all-wheel drive, 8" touchscreen navigation system and Park Distance Control. It also introduces the 3rd row so you can move your children to the rear and Fluffy to the front seat. When folded down, the rear two rows give a good 96.8 cubic feet of space for the dogs. Leather appointments and upscale inserts up front may make the Atlas better for the poodle.
#6.
Jeep Wrangler
Back to basics with the 2019 Jeep Wrangler, you think? Well the folks at MotorTrend just awarded this famous sport ute the SUV of the Year for 2019. And with this all-time best selling vehicle as an option for you and your furry friends, you can't go wrong.
The 2019 Wrangler is meant to be rough. We're thinking rambunctious-bird-dog-rough. The interior is full of tough and durable plastics and metal. And with this iconing ride you can still turn heads as you would in a Mercedes Benz G Wagon, without the sticker shock. The 2019 Wrangler also offers up the tech and luxury, like its Leather-Wrapped Dash/Uconnect® 4C NAV With 8.4-Inch Touchscreen, heated steering wheel and seats, and enrollment in a new Jeep concierge service named the Jeep® Wave Program. The iconic vehicle offers a respectable 72.4 cubic feet in the back with seats removed… enough for a pooch and a few of his or her friends.
#5.
Chrysler Pacifica
The second offering from FCA is the iconic Minivan. The Chrysler Pacifica is the new name on a long-standing old standard: The Chrysler Town & Country. We chose the Hybrid version because it is unique in this class. With amazing storage capacity and interior height unmatched by any other on this list, we're thinking this is the perfect vehicle for long, tall, elegant greyhounds. Or heck, even big, bulky, tall Great Danes.
The 2019 Chrysler Pacifica continues Chrysler's curvy styling, with updated, large grilles under the headlights, and tapered, slightly more angular back end. As if on cue, the current model of the Pacifica has introduced a BMW-esque dog-leg design to it's c-pillar. The interior is sumptuous for a minivan and offers up-to-date tech and safety including premium nappa leather-trimmed seats, hands-free power sliding side doors, and hands-free power liftgate, Stow 'NVac™ integrated vacuum powered by Ridgid®, and a gorgeous tri-pane panoramic power sunroof. When all seats are gone, this vehicle offers a whopping 140.5 cubic feet of cargo area. Being a minivan, the Pacifica also has a low entrance threshold for those older, larger dogs.
#4.
Honda CR-V
The best selling small CUV, the 2019 Honda CR-V, makes our list for many, many reasons. Reliability and durability of Honda vehicles is famous across the globe. Now in its 4th generation, the CR-V is better than ever and a great choice for your small or mid-sized furry friend.
For 2019, Honda has kept popular design features since this model's 2016 debut, and trimmed others. The large, prominent badging, grilles and headlights have been tweaked to be sharper and smaller. Angular, strong lines that give the vehicle a powerful stance that before felt a bit bubbly and wobbly. The CR-V offers luxury, safety, and tech that include hands-free access power tailgate led headlights with auto-on/off, a 330-watt premium audio system with 9 speakers, including subwoofer, Honda Satellite-Linked Navigation System™ with voice recognition and Honda HD digital traffic and HD radio. With the seats down, this CUV offers 75.8 cubic feet of space for your pooches.
#3.
Kia Soul
We've had the Kia Soul on many of our lists. The 2019 Soul is here for many reasons, but the top one is that this vehicle incorporates the low entry of a wagon, the cargo space of a bigger SUV, and the cargo height that only a minivan can offer. While it is smaller than the Minivan option we have on our list, this car would be ideal for hauling around 1 or 2 large dogs.
The 2019 Kia Soul is well into its 2nd generation of design now, having debuted this style and body in 2013. It's kept the look well though, and we're looking forward to what Kia has to offer in 2020. Having said that, the 2019 model is a great buy. The Soul offers a 7.0" Touch-Screen, Android Auto™, and Apple CarPlay™, automatic temperature control w/ Cluster Ionizer™, rear-camera display and backup warning systems. The crossover offers a respectable 49.5 Cubic Feet of cargo space and is a fun, relaxed, affordable option that your dogs will love.
#2.
Mercedes-Benz GLS
Surprised? You shouldn't be. We wanted to show you all options for dog owners, and just because you own a dog doesn't mean you're stuck with a Subaru. The 2019 Mercedes-Benz GLS, Mercedes' largest SUV, is an awesome option for you with huge cargo space and amenities that will thrill, ahem, your dog. Well, maybe more humans than dogs.
The 2019 GLS weighs heavily on the 2nd generation architecture to which it belongs, but with major design, tweaks to meet current Mercedes styling; LED headlamps and a wild, oversized tri-spoke badge give this 6-year-old body styling to match 2019. Tech, safety, and luxury features include 20-inch, 10-spoke wheels, Illuminated running boards, Active LED headlamps, Adaptive Highbeam Assist, and a beautiful Panorama roof w/power 3rd-row vent windows. Upgrade to get incredible luxury features like multi-contour front seats with massage feature, cabin-air purification system (to keep the dog-hair down to a minimum), and soft-close doors. An impressive 93.8 Cubic Feet of space is available for your finest-groomed animals to sit proudly as you take them from dog show to dog show.
#1.
Subaru Outback
And well, of course, our number one pick has to be the Subaru Outback. This vehicle is the epitome of friendly, nature-loving humans who love animals. It's perfect for those who tote dogs around town and who love to make sure they are safe, sound and comfortable. The 2019 Subaru Outback continues it best-selling life with tweaks and touches that keep it a relevant option.
The most recent Outback has tech and safety that includes an 8" multimedia display and STARLINK with Apple CarPlay™, Android™ Auto, and Pandora® integration, Symmetrical All-Wheel Drive, 8.7 Inches of ground clearance so you don't get stuck in the snow, and flexible cargo-carrying versatility for our animals in the back. A power rear gate and large cargo volume of 73.3 Cubic Feet say, "Buy this wagon for your dog!"
Closing
With that whirlwind of options, we hope we've set you out on an excellent journey into car and puppy ownership-land. While our list isn't all-inclusive, we think it's the best array of machines to help you get your dogs where they need to go. Runner ups to our top ten list include great options like the 2019 Volvo V90 Cross Country, good for those latte drinkers who want to keep up appearances, the 2019 Buick Regal TourX wagon, a real head turner and scratcher, and the 2019 Ford Transit Connect for those who really need cargo space and perhaps own a doggie-day-care.