Top 10 Cars for iPhone Users
By Todd Ridley, 3/15/2019
If you told me 15 years ago I'd be writing an article about what car would best fit my iPhone, I'd laugh at you. 10 Years ago I'd cringe. 5 years ago, and I would resign myself to being mad about writing this article 5 years later. And here I am. But surprise, I'm not mad.

Cars for phones? What? My first cell phone was a nextel back when I worked at a law firm in my early 20's. I filed court papers for lawyers all over the county and was in the car most of the time. We thought the walkie talkie feature was cool but didn't dream of ever being able to connect it in any fashion to our stereo (those were just for CD's and Radio), or being able to talk out loud and have our phone talk back. Or set a dinner appointment. Well, I'm getting ahead of myself.
If you told you 15 years ago I'd be writing an article about what car would best fit my iPhone, I'd laugh at you. 10 Years ago I'd cringe. 5 years ago, I would resign myself to being mad about writing this article 5 years later. And here I am. But surprise, I'm not mad.
I've wholly bought into the convenience of these pesky little buggers. I get their benefits and detractions. And I've now concluded that they are, indeed, important enough for you to purchase a car based on how well it serves this beast.
I've decided to focus on how the iPhone literally fits into this car, and if the vehicle offers an app in the iTunes store, two critical elements to a car catering to the iPhone user. Now I've had several vehicles that connect to iOS with varying levels of detail. Some with just music, others with full Apple Carplay™ like in my vehicle now. More important to me is Cubby space; where I can place my phone so that I can glance at it while driving, so it doesn't fly across the car when I turn a corner, and where it can get charged easily. These cars solve the "where does my phone go?" problem that tends to haunt most cars.
#10.
Chevrolet Bolt EV
Chevrolet offers the MyChevrolet™ App that connects your iPhone to many functions in the 2019 Bolt. Locking, engine-start and location are just a few. The Chevy Bolt EV also offers a unique wireless charging cradle that will perfectly hold your device and is a particular favorite of Bolt drivers in reviews.
The Bolt also comes with safety technology that includes OnStar Safety & Security with Automatic Crash Response (standard for the first month), available Automatic Braking, Lane Keep Assist with Lane Departure Warning and many more. Latch anchors cover all three rear seat positions, however, we've found that it's difficult to attach the lower rear anchors for the two outboard seats.
#9.
Infiniti QX50
The 2019 Infiniti QX50 is an amazing mid-sized Suv, packed with technology and luxury and very affordable. It offers not 1 but 2 infotainment and systems management screens. The QX50 is on our list here for one reason: Storage for the iPhone.
The center column of the dashboard includes a very generous area to store the iPhone and charge it/connect to the car. Located just in front of the shifter, this allows for you to always have an eye on your phone while it's fully connected.
The 2019 Infiniti QX50 also comes standard with the Infiniti Connection® iPhone app that allows you to not only start and lock the vehicle but adjust all of the settings, like driver alerts, from your device instead of sitting in the car thumbing through the system management system. This is a bonus.
#8.
Hyundai Ioniq
The 2019 Hyundai Ioniq is one of our full electric vehicles on our list here, but that's not the reason it's on the list. It's the way the Ionic handles the mobile phone; The Hyundai Ionic places the phone front and center with a non-slip flat top, right next to the shifter, on the center console. This is a place specifically designed for the iPhone, and a great solution to the "where does my phone" go problem.
#7.
Subaru Ascent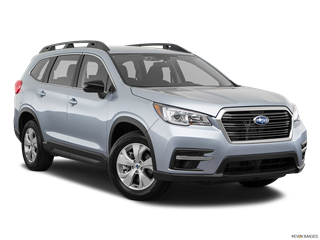 Subaru has come back hard with its new large Crossover, the 2019 Ascent. Remember the last try? In case you forgot, it was the Tribeca, and it was globally panned for its odd exterior… it was "The Edsel" esque with a hood that looked more like a toilet bowl than a neat and trim Subaru.
No, the Ascent is a people pleaser. Part Ford Explorer, part Hyundai Santa Fe, this crossover looks great. Especially the interior, with a very large center display and the all-important cubby for a phone. Located just under the heating and cooling controls is a perfect shelf for your iPhone, with 2 USB charging ports and soft, grippable, rubber padding so your expensive communicator won't knock about in corners. And the Ascent's beautiful 8" display features Subaru Starlink™ Multimedia with standard Apple CarPlay™.
Round out this SUV with A 2019 IIHS Top Safety Pick+ with Steering Responsive Headlights and you've got a winner on your hands.
#6.
Ram 1500
The 2019 Ram 1500 takes pickup trucks to the next level. Soft textures, opulent leather appointments, and stylish curves great you on the interior. Softly chiseled, yet strong, design on the exterior present a powerful image. This beauty was given the Best In Show at the 2019 NAIAS in Detroit just this January,
Popular Mechanics calls the 2019 Ram 1500 the "Most Technologically-Packed Truck On The Planet." Wow. Most surprisingly is how well the truck works with mobile devices like tablets and smartphones, including our beloved iPhone. Right in the middle of the center console is a very large tray lined in cushioned rubber with dual USB jacks, perfect to lay your phone casually down and have it kept in place as you drive through the farm or potholes. With full Apple Carplay™ integration, you can't beat it.
#5.
Toyota RAV4 Hybrid
The All-New 2019 Toyota RAV4 Hybrid takes Toyota's angular design to a whole new level. Toyota has increased sharp body creases and pointed headlamp profiles… even if you aren't a fan of this architecture you never miss it going down the road.
The RAV4 Hybrid is packed with technology including a large display screen that incorporated Apple Carplay™. Most notably, the RAV4 offers two great options for storing and charging your iPhone. A small cubby just beyond the shift lever and a large bin right on the other side, both with USB charging capability.
#4.
BMW X7
BMW Enters the 3rd row SUV market with its all new, impressive and stylish 2019 X7. The Bavarian automaker's flagship SUV continues to share BMW's bold and strong architecture introduced in 2015 with the X5. This car is a looker.
How much cooler is this than previous BMW suvs? They don't call it an interior.. It's a lounge. More specifically, the Panoramic Glass Roof creates an spacious feeling and features BMW's Sky Lounge LED Roof. It changes colors to create different mood lighting in the car and is absolutely stunning.
Along with a beautiful glass-like digital display, the X7 is fully compatible with iPhones through the Apple Carplay™ app. And, a beautiful center "bucket" with wireless or corded charging let's you place your precious communicator in just the right position so you can see it out of the corner of your eye.
#3.
Volvo XC 90 Excellence Hybrid
Well into its 2nd iteration, the 2019 Volvo XC90 has held up beautifully. First introduced in 2014, Volvo's new Thor's Hammer architecture, first featured on this vehicle, has now been applied across all of the brand's vehicles… to stunning effect.
Volvo not only integrates with the iPhone and Apple Carplay™, but it also displays the integration on a beautiful and unusually designed, tall center led display. Volvo also comes with an iPhone app that allows you to control several aspects of the vehicle, including pre-programmed temperature settings, system diagnostics, and remote start.
The 2019 XC90 also provides a specific place for mobile devices in the center console just in front of it's 2 large cup holders. Drivers always have the phone in view with a clear line of sight to notifications and music selection.
#2.
BMW 530e xDrive
Our second BMW on the list, the 2019 530e xDrive is on the list for one reason: technology. This midsize luxury sedan has a 8.8" Dynamic Digital Instrument Cluster plus BMW Navigation system with 10.2" high-resolution touchscreen, all with Apple Carplay™ integration.
The 530e also utilized an elegant bin to hold electronic gear with USB and wireless charging. With BMW's ConnectedDrive app, you're in full control of your vehicle remotely… it even integrates with your outlook or Gmail calendar to remind you to leave, pre-heating and cooling your car.
#1.
Tesla Model X
Ah the Tesla Model X is a favorite of ours. Sometimes I feel like the boy who cried wolf, but with this, it really is a wolf. It's always a wolf! This vehicle is amazing for many, many reason (gorgeous, suple vegan seating surfaces, the world's largest led display that controls all the functions of the car, the gull-wing doors to name a few), but for the purposes of this list, the way the 2019 Tesla Model X cradles your most precious device has to be number 1.
Not just 1, 2… but 3 options to cradle and charge your phone. Tesla has thought if any situation you may have to place your phone while driving, and they are all convenient. There is a slot just under the large display, a "stand" just at the mid-center of the center console, and a bin just behind that.
Since the introduction of the Model S, Tesla has been successful in communicating that it's not just a car. It's a lifestyle. And it has been a leader in catering to our iPhones.
Closing

So there's a secret I have about this article that I have to spill: psst… if it's good for an iPhone it's more than likely great for any modern smartphone. I work with many software developers and engineers, and I'm constantly amazed at the non-iPhone phones they show me. They're getting bigger and lighter, with increasingly more dominance in everyday use. All of these cars are great to target for ownership if, like me, you're connected to your phone most of the day for work or communication.