The Top 8 Cars for Outdoor Enthusiasts
By MATT CLAYSON, 2/15/2019
Let's talk about the best cars for outdoors enthusiasts… …People who thrive in nature. People who own acreage. Care about the environment and stewardship.
People who cut and haul brush. Chop their own wood. Are Ducks Unlimited or Sierra Club members. Those who take the back roads to the ski hill to poach the untracked powder. People who deal with deep snow, dirt roads, old logging trails, two tracks and farm trails. You know who you are.
The methodology behind our top list is simple: we cross reference best-in-class rankings for vehicle dependability - e.g. J.D. Power "U.S. Vehicle Dependability Study"- against 2018 sales numbers provided by our proprietary datasets and the conversations that we are having with real shoppers in our Detroit-base shopper support center and generate our list of top off-road vehicles that people want to drive.
#10.
Chevrolet Colorado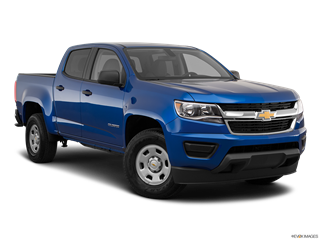 The base Chevrolet Colorado is an attractive, capable truck. They're loaded with the most recent electronic gadgets, such as GM's proprietary MyLink audio system. And they're efficient, logging in a respectable 18 MPG in the city and up to 25 MPG on the highway. Sure, the ride can be choppy at times – but base models fit with 4-wheel are affordable options for the outdoors enthusiasts who seek aggressive styling coupled with legendary Chevrolet durability.
Now, for those outdoors enthusiasts who are also serious off-roaders seeking to kick things into high gear, let us introduce the Chevrolet Colorado ZR2. We're talking 31-inch Goodyear tires, Multimatic DSSV shock absorbers, an impressive 8.9 inches ground clearance and track width and front and rear electronic locking differentials (you're an enthusiast, you know what that means). Not to be outdone, the good people at Chevrolet added nine (9) drive configurations as well as Hill Descent Control to the ZR2. Engine options include a 2.8-liter turbodiesel four-cylinder engine (181 hp and 369 pound-feet of torque) coupled with a six-speed automatic transmission or a 3.6-liter V6 engine (308 hp and 275 lb-ft of torque) coupled with an eight-speed automatic transmission. Keep in mind, the diesel engine has a few drawbacks compared to the gas V6.
Whatever option you choose, all are backed by Chevrolet's commitment to quality, ranked by J.D. Power as one of the most dependable brands in its 2018 U.S. Vehicle Dependability Study.
#9.
Jeep Grand Cherokee
As Jeep's flagship vehicle, the Grand Cherokee is as comfortable and smooth as it is versatile and capable of winter weather driving, making it perfect for those outdoors enthusiasts who love the winter. Able to seat four comfortably and five in a pinch, the Grand Cherokee packs plenty of rear cargo room, maintains a solid and upscale interior and is adorned with premium touches, such as smoked wood accents, soft-touch materials and an easy-to-use, responsive touch screen entertainment system that is compatible with Apple CarPlay and Android Auto. The Grand Cherokee is one of the sportier driving vehicles on our list, powered by an adequate 3.6-liter V6 engine paired with an agile eight-speed automatic transmission.
Touches such as titanium paddle shifters and a four-setting Selec-Trac 4-wheel drive management system ensure the driver remains engaged and in-control in changing winter weather conditions. Comfortable front and rear passenger seats ensure provide ample support for long drives. The climate package offers heated front row and rear seats, heated rear view mirrors and a heated steering wheel, amongst other features at a fair upcharge. If you are seeking a versatile vehicle that looks good inside and out and provides an engaging, confident off-road and winter driving experience no matter the condition, then look no farther than the Jeep Grand Cherokee.
#8.
Jeep Wrangler Unlimited
American muscle, American styling, American capability, and American grit: the first vehicle that comes to most people's minds when they think outdoors and off-road, the Jeep Wrangler remains a perennial favorite for outdoor enthusiasts seeking to make a statement with a distinctive, capable, gritty vehicle. Yeah, its ride is rough and noisy, it costs more than other compact SUV's and clunky features such as its exterior mounted door hinges can lead to unexpected maintenance hassles, but these inconveniences take a back seat when you're effortlessly plowing through 36-inch snowdrifts, across muddy stream beds, and over unmaintained two-tracks.
Kicking it old school, the base Wrangler comes standard with a six-speed, short throw manual transmission (if only it was a long throw, like the off-road God's intended… …alas, we can only strive for perfection). Long throw vs short throw aside, an eight-speed automatic transmission is available for those who fear the clutch. Standard is 10.8-inches of ground clearance, an approach angle of 43.9º, departure angle of 37º, and breakover angle of 22.6º (27.8º on the 2-door version). The popular Rubicon edition comes with electronically locking front and rear differentials, an electronically disconnecting front anti-roll bar, and a 4.00:1 low range for its part-time four-wheel-drive system. It also rides on strengthened Dana 44 axles front and rear. Seeking an off-road warrior to handle those deep, muddy two tracks near the lake, then the Wrangler is the vehicle for you.
#7.
Nissan Armada
Wide, confident and numbing – this beast is meant for deep sand and wide trails as well as everyday commutes. If you are a daily commuter and weekend off-road warrior, then this vehicle is the one for you. Sharing the same platform as the Nissan Patrol SUV, a favorite of the oil-rich aristocrats of Dubai, Qatar, and Saudi Arabia, the Nissan Armada is spacious, surprisingly refined and powerful. Standard is a 5.6L V8 and a smooth-shifting seven-speed automatic transmission delivering an impressive 390 horsepower and 394 lb.-ft. of torque.
Off-roading capabilities include 9.1-inches of ground clearance, an approach angle of 20.8º, departure angle of 22.1º and breakover angle of 20.5º. An "All-Mode 4-wheel-drive" system features Auto/4H/4LO modes, an electronically controlled part-time transfer case and 2.70:1 4LO gear ratio. For an average commute under normal conditions, the system operates in 2-wheel-drive mode; hit some rain or snow, the system distributes torque to all four wheels. Traction is maintained when the terrain is working against you via Active Brake Limited Slip (ABLS) system. Rather obvious drawbacks include an unimpressive 14 MPG from combined city/highway driving, noticeable body roll around tight corners and handling that can be, at times, numbing.
#6.
Ram 1500 Pickup
Aggressive and rugged, this Doctor Jekyll and Mister Hyde of vehicles can haul heavy loads as well as families safely and confidently in a variety of on and off-road conditions. Redesigned for 2019, the Ram 1500 truck shed unnecessary weight, added more passenger room and has substantially upgraded interior trim, fit and finishes. The result, a surprisingly pleasant on-road ride that is comfortable and quiet, a capable off-road ride that can accommodate almost any weekend escape and plenty of cargo area for hauling coolers, ATV's, snowmobiles, deer carcasses, tree stands, fishing poles and whatever else a weekend of outdoor adventure entails.
Are you an outdoors enthusiast looking for additional off-road capabilities? Then let us introduce The Rebel. Starting at a heftier $44,795 (add an extra $2,800 for a Crew Cab), The Rebel includes 33-inch Goodyear Duratrac tires, Bilstein shocks and a standard 3.6L V6 engine that produces 305 horsepower and 269 pound-feet of torque. Key off-road specs include 8.7-inches of ground clearance, an approach angle of 19º, departure angle of 24.9º and breakover angle of 19.5º. Seeking more power for those heavy loads and deep tracks? Then consider an available 5.7L V8 HEMI engine with 395 hp and 410 lb-ft of torque. An eight-speed automatic ensures ample response and agility. Rounded out with The Rebel badging and various interior embellishments intended to evoke ruggedness and durability, The Rebel remains the trim level of choice for those who enjoy dirt roads, deep two tracks, and extreme conditions.
#5.
Kia Sorento
Packing more value per pound than its Toyota or Honda competitors, the Kia Sorrento continues to be top shopper choice in the midsized SUV class when it comes to durability and winter weather reliability, making it another top choice for outdoors enthusiasts who love the winter. For those wanting to make a statement without sacrificing reliability, the Kia Sorento offers styling is more modern and aggressive than the Toyota Highlander or the Honda Pilot. With standard Electronic Stability Control and Electronic Brake-Force Distribution, the base Sorento provides a capable ride regardless of weather or road condition. Add available all-wheel drive and an available advanced cold weather comfort package and you're talking an affordable, reliable winter weather warrior. Packing three-rows of seating in the rear and a standard V6 engine with an all-new eight-speed transmission under the hood, the Sorento is a good choice for an active family of winter enthusiasts looking to be transported worry-free and in comfort. And speaking of worry-free experiences, Kia placed as the highest ranked non-luxury car brand on J.D. Power's 2018 U.S. Vehicle Dependability Study.
#4.
Ford F-150
America's best-selling vehicle for the first half of 2018, the Ford F-150 is a perennial favorite for the outdoor enthusiast seeking a truck that can rack up the miles, haul the big loads and comfortably fit a family in style. Lighter than in year's past, thanks to an all-aluminum body that sheds about 700 pounds of weight, the F-150 is amongst the most fuel-efficient full-sized pick-up trucks available. Various engine options offer shoppers choice between efficiency, power, and pep. Yes, pep – something you do not think of when you're considering a full-sized pickup truck. Nonetheless, step inside of a F-150 equipped with a 3.5-liter turbo V8 and you'll think otherwise. Safety features include forward-collision warning and automatic emergency braking, which are standard for the 2019 model season. Standard is Ford's commitment to quality, which places it behind brands such as Chevrolet but ahead of GMC, Dodge, and Ram when it comes to vehicle dependability rankings as compiled by J.D. Power in its 2018 U.S. Vehicle Dependability Study.
#3.
Subaru Outback
This vehicle has been the official vehicle of the US Ski Team and the US National Ski Patrol for decades. Yes. Decades. And why? Because they are safe, capable and can haul a ton of gear.
Perfect for snow days, bluebird skies and long road trips through variable weather conditions, this reliable wagon haul skis to the powder, bikes to the trail, fly rods to the stream as well as commuters to work and children to school. Secure, smooth and stable, it is powered by a 2.5-liter four-cylinder engine that delivers 24 MPG overall. Optional is a more powerful 3.6-liter six-cylinder engine that results in a quicker, quieter drive. Standard is Subaru's trademark all-wheel-drive system, ensure confident handling in any condition.
A safe choice – take it from the US National Ski Patrol, not just us – the 2019 Subaru Outback includes standard advanced safety features such as forward-collusion warning, automatic emergency braking, lane departure, lane keeping and sway warnings. Looking for a reliable, safe and enjoyable vehicle that can handle off-road conditions as well as the morning commute – look no further than the Subaru Outback.
#2.
2019 Ford Flex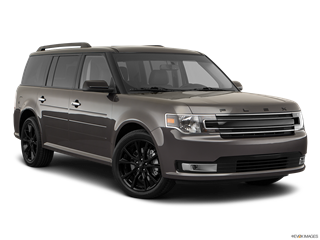 Yes, Ford will be soon discontinuing the Flex. And we're sad, because the Flex is the perfect vehicle for exploring the great outdoors. Our first road trip in the Flex involved heading from Detroit to northern Michigan; seating was spacious and comfortable, ride was smooth and a full-length vista roof ensured the drive was flooded with natural light. Subsequent trips involved winter conditions, hauling bikes, coolers and antique shop finds and long cross-country jaunts through windy, rainy and foggy conditions. Regardless of the weather, loads or destinations, the Flex handled tackled each with confidence and comfort. Powered by a base 3.5 liter V6, the Flex can approach an impressive 28 MPG on the highway. A less impressive 18 combined MPG is achieved when the Flex encounters stop-and-go city driving. A Sync 3 infotainment system ensures drivers and passengers have the latest technology to keep aware of changing road conditions, to discover hidden gems and to keep entertained over those long expanses of open road.
#1.
Chevrolet Tahoe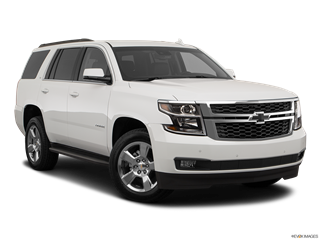 Tall and commanding, the Chevrolet Tahoe is a perennial favorite for outdoors enthusiasts who value reliable driving in variable conditions and big towing capabilities. Powered by a bulky, powerful 5.3-liter V8 engine which is paired with a six-speed automatic transmission, the Chevrolet Tahoe's powertrain is built for trailering big boats, snowmobiles, ATV's and camper. A refined interior includes three rows of seating, perfect for large groups and large families. Road and wind noise are minimal thanks to premium sound dampening; a touchscreen infotainment system is intuitive and easy-to-use. Gas mileage tracking 16 MPG combined is lackluster but expected given the engine and vehicle size. We've especially enjoyed the Tahoe for weekend road trips to the lake, where we enjoy the stability and confidence it exudes while driving in dusk and evening conditions. Seeking an old school SUV that hauls and hauls while incorporating new school styling, fit and finish, then look no further than the Chevrolet Tahoe.