The Top 8 Vehicles for Young Professionals Who Don't Want to Look Cheap
By MATTHEW CLAYSON, 12/18/2018
Your student debt load is staggering. Your rent continues to increase. Your wages are stagnant and you are damn sick and tired of taking the metro to work.
Being a recent college graduate is hard; finances are tight, entry-level professional jobs are thankless and often grueling, and the cost of living in good job markets is increasing expensive.

Hello sunshine.

There's light at the end of the tunnel. The menial jobs of today lead to the fulfilling careers of the future. The shared rentals lead to studios apartments which lead to lofts and townhouses. The daily commute on the metro leads to a car purchase.

And that is where we are here to help. On helping you determine what car to buy at what price.

Now, there's the opinion that young professionals should cram themselves and their lives in cheap, sub-compact vehicles – and there are lists everywhere that give insight into what compact vehicles are tops for young professionals.

We're going to approach this differently, however. We're not going to assume that smaller size equals smaller price and carrying costs, because it does not. And we're not going to assume that all young professionals want the smallest, greenest and cheapest vehicle on the market. Rather, we are going to look at the data – incentive data, leasing data and demographic data – and combine with some subjective measures, such as styling, ride quality and distinctiveness, to determine our top list of vehicles for young professionals who do not want to look cheap.

Because, let's be honest, outside of your rent, your car payment is probably your next largest expense – and why would you want to pay a couple hundred dollars per month to own a car that looks and feels like the equivalent of a meal at Applebees?
#8.
Jeep Compass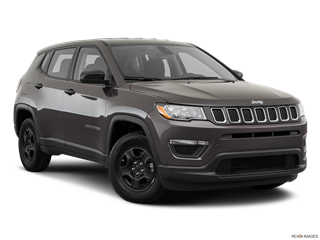 [PRO-TIP: ask about leasing specials, as Jeep remains one of the more competitive brands when it comes to zero-down, low monthly payment leases].

Sitting between the Jeep Renegade and the Jeep Cherokee, the Jeep Compass has been entirely redesigned for the 2018 model year. With interior and exterior styling referencing its larger Jeep Grand Cherokee sibling, the Compass is distinctive: maintaining an aggressive stance, a spacious cabin and surprisingly refined interior finishes. Its steering wheel is substantial and beefy, exuding confidence and comfort – which gives the vehicle a premium feel. Touch controls for entertainment and climate control systems are intuitive and responsive; Apple CarPlay and Android Auto are standard, so don't let the dealership try to talk you into an expensive – and unnecessary – navigation system. Rear passenger seating is comfortable and spacious and rear cargo space accommodates large luggage pieces and sporting items for weekend excursions. Power comes from a 180-hp, 2.4-liter four-cylinder, an engine that delivers enough pep when pushed, perfect for city driving. The ride quality is firm and aggressive; and, importantly, interior cabin noise is minimized as a result of tight-fitting componentry and good sound dampening. Available safety features include forward-collision warning, lane-departure warning, and blind-spot warning. Standard is Jeep's cutting-edge styling and its legendary brand DNA, which are anything but cheap.
#7.
Volkswagen Jetta
[PRO-TIP: Volkswagen Group owns Audi, Bentley, Bugatti, Lamborghini and Porsche, as well as Volkswagen. As a result, a consistent brand DNA and engineering – e.g. a brand look and feel – is shared across all product lines and VW can rely on engineering breakthroughs and styling from its more premium siblings to deliver a solid, affordable product].

"Fahrvergnügen: It's what makes a car a Volkswagen".

Too young to remember this off-beat marketing campaign (?), then Google it. And Google the all-new Jetta while you are at it because it is a great buy. Redesigned and re-engineered, the Volkswagen Jetta combines great fuel economy with easy to use controls, a roomy cabin and a plethora of upscale features. Powered by an adequate147-hp, 1.4-liter turbocharged four-cylinder engine and an eight-speed automatic transmission, the Jetta holds its own in around-the-town driving but shines on the highway where it provides ample acceleration on demand. The ride is smooth, perfect for bumpy city roads. Like its German engineered siblings, the Jetta delivers impressive fuel economy at 34 mpg overall. A quiet cabin and thoughtful color and material choices give the cabin a premium feel. Safety features such as automatic emergency braking, forward-collision warning, and blind-spot warning are optional on the base trim and standard on all other trims. All-in-all, the Jetta is a delight to drive and own. Again, it's all about the Fahrvergnügen.

#6.
Mazda CX-3
Another perfect city vehicle. Compact, sporty yet solid and substantial, the Mazda CX 3 delivers agile, fun-to-drive handling; a confident feel; and good fuel economy. Distinctive 18-inch wheels are standard on all models but the base; styling is aggressive and modern, evoking queues from niche premium brands such as Range Rover and Alfa Romeo. Powered by a peppy, 148-hp, 2.0-liter four-cylinder and a six-speed automatic, the CX-3 is a smooth in the city and capable on the highway. The infotainment system includes a 7-inch center display screen is large for its class; a rotary knob that controls phone and audio functions can be clunky at times. The rear seat is tight and cargo space modest; this is not the weekend hauler but rather is the weekday commuter. Looking to move up from riding the bus and getting from home to work in style, then the Mazda CX-3 is the car for you.
#5.
Dodge Charger
[PRO-TIP – FCA (e.g. Dodge's parent company, Fiat Chrysler Automobiles) loves to basically give these things away on lease. If you're paying more than $250/month for one of these adequately loaded, you're getting a raw deal].

You're on a commission-based comp plan and are having a good year. You're working long hours, but are closing deals. And you want to reward yourself with something fast, fun and loud. Packing aggressive, in-your-face American styling and powered by Detroit-muscle, the Dodge Charger puts you in command of the road and your image. The Charger is big and it is comfortable, delivering a smooth ride and a quiet cabin for you and your passengers. Powered by a 3.6-liter V6 paired with an eight-speed automatic transmission, the Charger excels on the open road and over long distances – a perfect vehicle for picking up riders from the airport or for transporting across long distances. Dealing with all-season climates, all-wheel drive is optional, as are automatic emergency braking and lane-keeping assist. Wanna make a statement and command the road, the Dodge Charger is the vehicle for you.


#4.
Buick Regal Sportback
[PRO-TIP – these things lease really well, with zero down options available. Hatchback versions are classified by many insurers as SUV's, commanding lower premiums].

While all of your friends are overpaying for a stripped down, entry-level luxury import all-the-while living in a *micro-apartment* in a trendy new loft complex whose view consists of a rank, dumpster riddled alley – yes, we all know those people, who place what can *impress* others overvalue – you can enjoy the Buick Regal Sportback, a car that is sporty, distinctive and is packed with luxurious touches for the fraction of the cost of many import brands and has enough savings left over to afford the one bedroom unit with a partial city view down the road. Powered by a European inspired 2.0-liter, turbo four-cylinder engine, the Buick Regal is as engaging in the city as it is aggressive on the highway – a perfect car for the Uber or Lyft driver who serves a broad range of riders. You will appreciate the Buick Regal's comfortable ride, firm seats, and quiet cabin, where road, wind, and engine noise are well-muted. Handling is responsive and confident: grippy with little body roll, confronting all bumps and potholes with ease and elegance. Android Auto and Apple CarPlay compatibility are standard, so don't get talked into any navigation system upgrade, which can add $500 upwards to any purchase price. Most advanced safety features are optional, with the notable exception of a pedestrian-protecting active hood – a benefit many urban drivers will appreciate.
#3.
Honda Civic
[PRO-TIP: Go used on the Civic. You'll save on monthly payments and insurance, and the thing is basically guaranteed to run-and-run-and-run with minimal maintenance].

We get it, you could care less about how you look or what others think. Your car is a vehicle to get you from point A to point B, on your own schedule, without waiting for the bus or dealing with creepers on the subway. You value dependability and reliability. And, like a trusty dog, the Honda Civic has served as a reliable standby for generations of sensible, pragmatic shoppers looking for an easy, efficient car that runs and runs and runs. Just think of how many 2000 era silver Civics you see on the road today, obediently transporting their owners from place-to-place without worry or concern. While the 2019 Civic won't win any awards for its styling; it gets props for a base engine that is efficient and reliable, a stable ride and an interior that has a lot of storage space for its class. Available in coupe, 4-door sedan or hatchback, the Civic has a body style for every need. Need some salt and spice? There is a 306 hp Type-R version that will have commuters mistaking you for Vin Diesel during your commute to the office. As an added, but not surprising, bonus: Honda rates amongst the top brands in J.D. Power's 2018 U.S. Vehicle Dependability Study.

#2.
Kia Sorento
[PRO-TIP: Kia is right up there with Chrysler and Jeep when it comes to competitive leasing. Want a low monthly payment and not seeking the commitment of ownership, then explore 24 and 36 month leasing options you're your local dealership].

Seeking a midsize SUV at competitive lease rates, then the Kia Sorento is the car for you. Packing more value per pound than its Toyota or Honda competitors, the Kia Sorrento continues to be top shopper choice in the midsized SUV class when it comes to a car that balances value, cost of ownership and reliability. For those wanting to make a statement without sacrificing reliability, the Kia Sorento offers styling is more modern and aggressive than the Toyota Highlander or the Honda Pilot. Packing three-rows of seating and powered by a standard V6 engine with an all new eight-speed transmission, the Sorento is a good choice for an active family looking to be transported worry-free and in style. And speaking of worry free experiences, Kia placed as the highest ranked non-luxury car brand on J.D. Power's 2018 U.S. Vehicle Dependability Study.
#1.
Chevrolet Colorado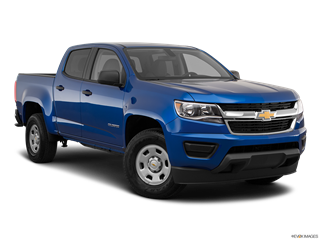 [PRO-TIP: General Motors, Chevrolet's parent company, loves to lure buyers with incentives and rebates. Interested in the Colorado and ready to buy, then be sure you go to the dealership armed with all recent incentive and rebate information].

Not really into sedans or SUV's? Yeah, we get it. You're not about to join the country club set anytime soon (though prime rib nights, well gin martinis and wedge salads are an under-appreciated and surprisingly affordable luxury), and the days of hauling the family around are but a faint glimmer on the horizon. Fortunately for you, the automotive product development overlords in Detroit resurrected the compact pick-up truck, which packs a spacious, stylish cab with a versatile rear. Mullet references aside, the base Chevrolet Colorado is an attractive, capable truck. It's loaded with the most recent electronic gadgets, such as GM's proprietary MyLink audio system. And it's efficient, logging in a respectable 18 MPG in the city and up to 25 MPG on the highway. Sure, the ride can be choppy at times – but base models fit with 4-wheel are affordable options for the casual off-roader who seek aggressive styling coupled with legendary Chevrolet durability. Backed Chevrolet's commitment to quality and ranked by J.D. Power as one of the most dependable brands in its 2018 U.S. Vehicle Dependability Study, the Chevrolet Colorado is an unexpectedly reliable and affordable choice for young professionals.
Closing
All of the vehicles listed as our top picks have a wide spread between the base model and a fully loaded model, but guess what, they all look nearly the same from the outside. So if you want to show up in style on a fixed budget do your best to stick with an affordable trim package.