The Top 9 Cars for Families with Infants
By TODD RIDLEY, 12/17/2018
Raising a family is tough. Tougher still when children are very young and require extra care and supervision. When it comes to transporting your tots to the grandparents, pre and k schools, birthday parties or even the grocery store, it's important to know what the safest and best option is for you and your family.
Traditionally a family cruiser has included such body styles as wagons and large sedans. After the explosion in popularity of minivans in the '80s and '90s, sport utility and crossover options have been the dominant, most popular option for families. While prices at the pump have determined the popularity in size of the crossover, increased gas prices have had little effect on the vast sales of these vehicles.
More recently, crossovers have become popular with nearly every sector of the US car-buying market. And this is great news! Why? It means that families with newborns and infants can benefit from the attention car companies are now paying to these vehicles in terms of styling, tech, standard features and most importantly, safety.
In an effort to focus on some core features specifically important to families with infants, we've put together a list of our choice, in rank order, of 9 best vehicles for you. We've taken into consideration safety ratings, what features are available specifically for parents with infants, like the number of child-seat anchors, the size and shape of the vehicle and finally, style and tech. We've taken care to keep our descriptions in this same order for ease of comparison.
#9.
Chevrolet Bolt
Base MSRP Range: $37,495 - $41,780 (not including federal tax credits where available)
GM had high hopes for the Bolt. When Chevrolet announced the smaller cousin to the Volt, the press met the vehicle with positive reviews. And it is an attractive vehicle! We've included it in our list here, albeit in last place, because of some unique features that make it a reasonably affordable, all-electric vehicle for a new family.
The Chevrolet Bolt is a safe vehicle, first and foremost. With an overall score of Good (which might not sound "great" when trying to protect your newborn), this hatchback gets a 5/5 crash test rating from the National Highway Traffic Safety Administration. The Bolt also comes with safety technology to help you protect your young one that includes OnStar Safety & Security with Automatic Crash Response (standard for the first month), available Automatic Braking, Lane Keep Assist with Lane Departure Warning and many more. Latch anchors cover all three rear seat positions, however, we've found that it's difficult to attach the lower rear anchors for the two outboard seats.
Surprised to see a hatchback on this list? That's understood, but we have a few specific reasons we feel this particular hatchback is great. First of all, since the vehicle is all electric, there is no axle tunnel in the rear floorboard, almost like a minivan. The fifth door (or hatchback), allows for extra access to the rear seats. And most notably, the front driver and passenger positions are high and pleasantly upright, giving an excellent view of the road and the back seat. The styling of the Bolt isn't bad either; a favorite feature of ours is the way the headlights flow into the nameplate, exclaiming "bolt!" That, in turn, flows into the window and through the rear c-pillar. The design feels electric and is a standout that will let people know you're driving an EV.
Add a sticker with parents and a baby to the rear window and you're ready to go!
#8.
Chrysler Pacifica
There are several minivan options still offered by manufacturers, including Toyota and Nissan, but it's the original Chrysler version, renamed the Pacifica (remember this used to be the Town and Country), that remains in our top nine list.
The Pacifica is a very safe vehicle for your family: Acing all 5 crash test ratings, the minivan was also named a 2018 IIHS Top Safety Pick, with a Five-Star overall rating from the NHTSA. Standard and available features in the vehicle also add to the safety of this pick: Blind-Spot Monitoring, Rear Cross-Path Detection, Collision Warning Plus, and Lane Departure Warning Plus are just a few of them.
As for specific needs of new parents, despite several advantages, the Pacifica has one attribute that has kept it from rising higher on the list; The four full sets of Latch car-seat connectors are confusing to use. Not only that, they are hard to find because they are buried very deep between cushions. Good features include Chrysler's patented Stow-N-Go seats that allow you to completely remove the seats from the cabin without removing them from the vehicle (they fold into the floor), and an easy-tilt feature that allows easy access to the rear, available 3rd row.
Pacifica also offers some amazing tech, including Parallel and Perpendicular Park Assist, along with Rear and Front park assist. We can't think of a better feature than this since it allows you to pay attention to your infant while your car parks for you. In terms of styling, the Pacifica is, shall we say, safe. In our opinion it's a decent looking vehicle, but definitely a minivan, and definitely not a show stopper like some other vehicles in our list. If you're looking for something new alongside safety and comfort for your youngsters, look elsewhere on our list.
#7.
Jeep Grand Cherokee
Aside from our option for a minivan, the Jeep offering in this top-9 list is perhaps the most senior. Jeep has offered a version of the Grand Cherokee for nearly 30 years, and while SUVs haven't always been a top pick for families, this option has done its level best to stay a viable option. The Jeep also has the widest range in base MSRP that we have in our list with a whopping $50,000 difference in the lowest cost option and its top tier, the staggeringly expensive Trackhawk Edition with a $86,000+ base price. For the mid-level option in this vehicle, it's a decent, safe choice that won't let you down… it won't get your blood pumping either.
A safe vehicle, the Grand Cherokee scores in the mid-range on several safety tests. For instance, the 4-wheel version gets a 5-star perfect rating from NHTSA, the rear-wheel version only ranks a 4-star. IIHS also gives the Jeep a rating of "good," a marginal rating that keeps it from being a Top Safety Pick. Safety in this SUV keeps it in our top 9 with an impressive array of standard and available features. SOS Call and Assist, Advanced Brake Assist, Full Speed Forward Collision Warning, and Lane Departure are some features that will help keep your young ones safe.
Again, as with our other Chrysler/Jeep on the list, seat anchors for child-seats take extra effort to find and attach equipment too. However the seat height of this more traditional SUV is great for placing infants into rear child-seats, and the upward position in the driver and front passenger seats give a commanding view of the road and cabin.
While styling for the Grand Cherokee maintains its present lines and accents that were introduced in 2015, the new Grand Cherokee offers a solid set of tech for the weary new parent. Bluetooth and a large center screen display help the driver pay attention to the on functions of the car while allowing you to have fun with audio options.
#6.
Ford Flex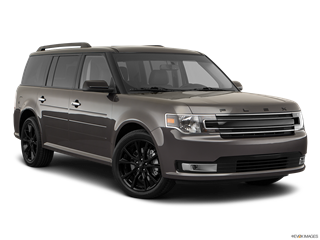 Wow. The Ford Flex has surprised us. Nobody would have guessed that this unusually shaped, retro-style crossover would still be around in 2019, but this unique vehicle has proven its staying power with a steady array of new features and tech. With a great balance of ride height and ease of entrance, combined with enormous space, the Flex is a win/win for families with small children and infants. The price for the amount of vehicle you get is also a reason this has made its way into our list, and our hearts.
The Flex received the highest rating in the four crash evaluations from IIHS, and 4-stars from the NHTSA. While not the highest safety ratings, the Ford Flex has many standard safety features that include Blind Spot Info System with Cross-Traffic Alert, among others.
Boy is this car big; the Ford Flex boasts the largest and most spacious cabin in the bunch. Even with captain's chairs (optional) replacing the second-row bench, there's plenty of room for 2 infants in the second row with an additional '80s adults or 3 children in the back. The Flex is definitely a large, styling work-horse for a large family.
#5.
Kia Soul
Surprised the Kia Soul is on our list? We are too. While the Korean wagon, some say crossover, has always been a favorite because of its distinctive looks, it wasn't until a visit to my family in Florida, and a ride across the state with my new nephew, that this car seemed a great option to me for infants.
The Soul just seems smart. Both in exterior and interior looks, and with a very attractive base MSRP on all trim levels, the Kia Soul feels like a great option for a new, young family. Save the money to spend on diapers and formula. Trust us, you won't miss the features of a higher end vehicle because they're all here.
The Kia Soul is very safe: IIHS awarded the wagon a Top Safety Pick+, the agency's highest honor, and aced 9 of the 11 tests the NHTSA administers. Autonomous emergency braking, lane-departure warning, rear cross-traffic alert, forward-collision warning… among many more features round out an impressive array of safety items for a vehicle in this price range.
The ride height of the Kia Soul is matched only by that of the Subaru Outback. Somewhere in between a CUV and sedan, the Soul feels just right. The Soul's LATCH hardware is also very , for car seats, just out of view but easily accessible.
The Soul is cheap, but its interior doesn't feel that way. While not as large as others in the list, the design and feeling the big and spacious, with quality materials and lots of soft touch points.
#4.
Honda CR-V
Always a people pleaser, the Honda CR-V has proven so by being one of the top-selling vehicles year over year since it's introduction 20 years ago. And being a Honda, you're sure it's a safe vehicle and a safe bet for your family.
The Honda CR-V is indeed safe. The CUV received the highest rating from the National Highway Transportation Safety Administration of 5-Stars, and a Top Safety Pick+ from IIHS. The Honda also includes available safety features like collision-mitigating braking, lane-keep assist, blind-spot monitoring and more. The CR-V's design in its high-mounted tail lights is also considered a safety feature, and a popular part of its overall aesthetic.
The CUV has easily accessible LATCH anchors, and the large rear passenger area helps car seats to fit without moving the driver or front passenger seats. The excellent height of the vehicle and upright seating allows for a commanding view of the road and excellent views into the cabin, particularly the rear seats. Unfortunately, the CR-V does not offer 3rd-row seats and is limited to 5 passengers. While Honda does indeed offer a larger CUV in the Pilot and minivan in the Odyssey with 3rd rows, we did not include those on our list because, honestly, they're just too bland.
You don't need to take our word for it that this is a great vehicle. Sales of the Honda CR-V have steadily increased and it's proven to be the most popular Honda model for years now.
#3.
Subaru Ascent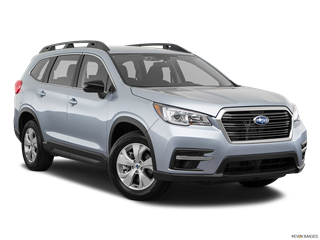 Remember Subaru's unpopular foray into this segment with the Tribeca? No? Let me remind you… it looked like it had a toilet seat on the front. Note to reader: The Subaru Ascent is NOT the Subaru Tribeca. Not by a long shot and that's a great thing. To begin with, while an attractive crossover, this Ascent will not turn heads in a bad way; rather this car looks a lot like it's direct competitors like the Ford Edge, Chevy Equinox and Toyota Highlander. Still, it's on our list for a very specific reason, not the least of which is that this car, after all, is a Subaru.
The all-new Ascent has earned the Top Safety Pick+ award from IIHS, with good crashworthiness ratings across the board, and meets all NHTSA criteria. The new CUV also offers, for the first time, Subaru's EyeSight® Driver Assist Technology standard. The new safety package includes automatic emergency braking and lane-keeping assist. Starlink™ Safety Plus including Enhanced Roadside Assistance, Advanced Automatic Collision and more is also available.
The Ascent is indeed Subaru's largest offering, with a third row and seating for seven. As a crossover it's a great option for families with infants. There are two full sets of LATCH car-seat connectors in the back, with an additional 1.5 lower anchors, above the governments required safety standards. With a high seat position, it's easy to get car seats and babies into the rear. And with available power rear gate and an array of power features 3rd-row it's easy to travel with children.
#2.
Volkswagen Atlas
Since the award-winning Touareg is no longer in production for sale in the United States, Volkswagen's large SUV, the all-new Atlas, is the only option for a large family from the German automaker. Large and stately, the Atlas replaces the Touareg in this segment with less distinctive design elements, looking more like a Ford Explorer that an exotic import. Still, the CUV looks more lux than its low base MSRP indicates.
The Atlas received the highest ratings in all crash tests performed by IIHS, and a perfect 5-star overall safety rating from the NHTSA. All available trims of the Atlas come with great safety features including electronic stability control, anti-slip, forward collision monitoring, and autonomous emergency braking as a few examples. The Atlas also includes Volkswagens Intelligent Crash Response System (ICRS) which automatically unlocks the doors for rescuers, turns on the hazard lights and shuts off the fuel pump in the event of a collision.
Standard LATCH car-seat connectors are easy to use. Second row also tilts and slides at a 60/40 split WITH child seats in place, a huge advantage of this vehicle.
High seat position gives a very nice, commanding view of the road and the cabin… including the raised 3rd row.
#1.
Subaru Outback
Want a vehicle that has, for nearly 30 years, proven itself a safe, affordable, respectful, dependable and stylish option for families like yours? It's no joke that we've chosen the Outback as our #1 option for those drivers with infants. The award-winning wagon is fantastic, and we think the best, option for you. Author's note: notice we are specifically saying newborn… not a large family. If you have a newborn plus additional kids and need the room, opt for the VW Atlas or Subaru Ascent that has a 3rd-row option.
The NHTSA rates the Subaru Outback at five stars, and the wagon receives a Top Safety Pick+ Award from IIHS. And like the new Ascent, starting in 2019 Subaru offers the Outback with EyeSight® Driver Assist Technology, standard. Blind-spot detection, lane change assist and Starlink Safety Plus are a few features that help round out the Subaru Outback's excellence in safety.
Standard upper and lower LATCH anchors are standard in the Outback and are easy to use. As our research put it, this Subie has the perfect step-in-height, matching the ease of a higher seat like our CUVs in this article without being too high. Rear doors open wide also making entry very easy.
While this is an aged model, this is a recently redesigned version and looks fantastic. With additional plastic body panels and a noticeably raised stance that say "I can go off road," the Outback stands out from the crowd.
Closing
There are dozens of vehicles out there to choose from for new parents when shopping for a new or used vehicle these days. The choices can be overwhelming. And, to be honest, our list is far from conclusive.
We didn't include such popular options as the larger Chevy Tahoe, Lincoln Navigator or Toyota Highlander. Nor did we include increasingly popular wagons like the Volvo V90, Buick Regal Tour X or Audi Allroad. While these are options for new families, and all have their pluses, the combination of price or size put them in a category that is slightly outside of our popular list.
Close runner-ups include the Subaru Crosstrek and Kia Sportage, both with quality design, fit and finishing and high safety ratings.
If you've just had your first or even third child and you're in the market for a new car, you can rest assured our list is a great place to start.