Top 10 Cars for Big Families
By TODD RIDLEY, 3/15/2019
Transporting families of 6 or more is a challenge. Brands and Manufacturers have struggles to meet the need of parents wanting a desirous car that holds kids and possible live-in parents. Before the 1980s, options included gigantic station wagons or conversion vans. Neither of those things past muster anymore.
Transporting families of 6 or more is a challenge. Brands and Manufacturers have struggled to meet the need of parents wanting a desirous car that holds kids and possible live-in parents. Before the 1980s, options included gigantic station wagons or conversion vans. Neither of those things past muster anymore.
Starting with the minivan and the large SUVs in the 1980s and '90s, manufacturers started to build bigger, better and smarter. With new technology in manufacturing, styling, and design, companies like BMW, Cadillac, Volvo, etc are able to carve out more room from the interior without increasing the overall size of the car. Finding storage space in places previously used by larger gas tanks, large steel structures or now unnecessary mechanical equipment. One perfect example is the ingenious Stow-n-Go™ system introduced by Chrysler in its eponymous Town & Country in the 1990s; this allows for storage under the floor using space previously undiscovered.
Our list will focus not only on large SUVs and Minivans but on how space is combined with technology, comfort, and design. Increasingly, large family vehicles are introducing luxury amenities to the market, including power 3rd-row seats that recline, LED roof liners that create a studio feel, and sound systems that will blow your hair back.
#9.
Volvo XC90
Volvo is a favorite of mine, and I will most likely always place one of their models in each list I create. And that's a good sign of a brand… they have options across the board. Even a Polestar performance car.
Volvo's XC90 SUV has been a best selling option for middle to upper class families since its introduction. One of the longest original designs, it wasn't until 2014 that Volvo introduced a brand new bodystyle that introduced the Thor's Hammer architecture. Today, the 2019 Volvo XC90 is a triumph of engineering, luxury and… space. Which is why it's on this list.
Boasting a fantastic interior with a third row, important for a vehicle a big family might choose, this large SUV is perfect for the family looking for the prestige of a Volvo, with the room of a Ford Expedition.
#8.
Honda Odyssey
Honda's award-winning Odyssey minivan is now in its 5th generation. Once the darling of families in the 90s, the Odyssey is fighting hard for market-share against American and other Asian competitors (also in this list).
The 2019 Honda Odyssey is still stylish and seen as premium in the minivan world. The minivan comes packed with tech and options, including Rain-sensing windshield wipers, heated and ventilated front seats, heated leather-wrapped steering wheel, 550-watt premium audio system with 11 speakers, including subwoofer, blue ambient led lighting and wireless phone charging.
Captains chairs, power plugs for media, available entertainment systems in the rear and large, spacious rear doors make this a great pic for a large family. Along with Honda's world renown quality, you can't go wrong with this option
#7.
Toyota Sienna
The third generation of the Sienna continues Toyota's overall architectural design aesthetic of sharp, hard angles. While not this author's favorite look, the 2019 Toyota Sienna deserves to be on our list here because of its popularity and performance. It's a big vehicle, great for families, and is now offering tech and luxury that is appealing if not perfect.
The 2019 Toyota Sienna is indeed focused on the kids: Entune™ 3.085 Audio with App Suite85 — includes 7-in. touch-screen, AM/FM, Scout® GPS Link52 compatible with up to 3-year trial,73 Siri® Eyes Free,60 Apple CarPlay®81 compatible, auxiliary port, USB media port,70 hands-free phone capability, advanced voice recognition51, and music streaming64 via Bluetooth®64 wireless technology.
For comfort, the Sienna comes with three-zone automatic climate control with air filter, individual temperature settings for driver, front passenger and rear-seat passengers, and separate rear digital control panel.
#5.
Kia Sedona
Now that Kia has had 3 generations to nail down the size, features and roominess for it's minivan entry, the esteemed Korean manufacturer has finally nailed it with the 2019 Kia Sedona. The Sedona minivan uses new Kia architecture and presents a bold, powerful stance with muscular angles and purposeful creases in its sheet metal.
Inside the minivan is beautiful. Packed with luxury and technology, this car will amaze you. Some features include 7" Color Touch-Screen Display, AM/FM/MP3 Audio System, UVO eServices with Navigation, 8" Color Touch-Screen Display, SiriusXM® Traffic and HD Radio™, AM/FM/MP3/SiriusXM® Audio System, Dual-Screen Rear Seat Entertainment (RSE) System.
Large interior spaces make this a great fit for a large, modern family.
#4.
Chevrolet Tahoe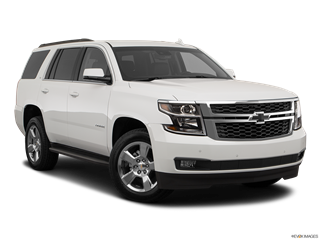 This list wouldn't be complete without the epitome that the Chevrolet Tahoe has become. The Tahoe is a standard bearer in family travel, with gigantic proportions, luxurious appointments and technology galore. When the term "soccer mom" was created in the 90s, it was either a Chrysler Town & Country or the Chevy Tahoe that people imagined moms dropping off their kids in.
The 2019 Chevrolet Tahoe has all the creature comforts for crosstown grocery-getting, or cross country family trips. Heck, even the family dog is a perfect fit. Hidden lockable storage compartment with usb port, available customizable driver information center, 8-inch diagonal touch-screen display with phone integration, available 4g lte wi-fi®, leather-wrapped steering wheel, and premium stitching and craftsmanship round out just a few reasons why this SUV is a great choice for you and yours.
#3.
Chrysler Pacifica
The 2019 Chrysler Pacifica is the most iconic of minivans for several reasons. Chrysler and Dodge established the minivan market in the 80's with the very first versions of the segment, then called the Chrysler Town & Country and the Dodge Caravan. Both quickly became sought after, and have since led the competition with innovation like the very popular Stow-n-Go™ system introduced in the 1990s.
Now known as the Pacifica, Chrysler has kept innovation, spaciousness, and appeal to families at the core of this concept. While not eye-catching or spectacularly luxurious, the Pacifica has proven the workhorse of the segment. It offers some eye-catching features including available uconnect® theater, featuring games and apps on the largest dual touchscreens in its class. Plus, get access to apple carplay® support and Android auto™, integration on the enormous available 8.4-inch touchscreen. Connect your device to make calls, send and receive messages, get directions and more.
It's perhaps the Chrysler Pacifica attention to space and use of it that makes it outstanding as an option for families. With easy push-button access to the 3rd row, automatic liftgate in the rear, and the aforementioned Stow-n-Go™ system, it's an impressive option for large families.
#2.
Subaru Ascent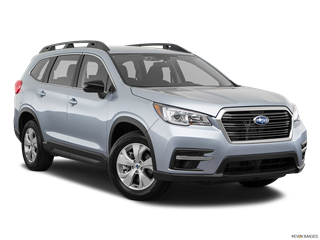 We've included Subaru on many of our lists at Rydeshopper. And for good reason. Subarus offer quality and craftsmanship, unique and identifiable styling and branding, and space for families.
It wasn't until the 2019 Subaru Ascent SUV with third-row the Subaru is cracking the large family market, however. Yet it's been able to complete this task with aplomb: the Ascent is a fantastic vehicle and option for large families. The vehicle's beautiful 8" display features Subaru Starlink™ Multimedia with standard Apple CarPlay™ to keep the kids interested.
Interior space is spacious and comfortable for 7 or 8 passengers: second-row captain's chairs, wi-fi connectivity, and USB charging, Starlink™ entertainment anywhere, 19 cup and bottle holders, power rear gate, and panoramic moonroof make this a winner.
#1.
BMW X7
We're in love with the BMW X7. For more than a decade, the Audi Q7 has been the leader in very large, luxury performance SUVs. While BMW has had success with its award-winning X5 SUV, it wasn't until 2019 that the introduction of the larger X7 brings the big family into the equation.
While it keeps the lines, muscular architecture and luxury of the X5, the 2019 BMW X7 adds additional luxury and technology, and of course that extra 3rd row.
How much cooler is this than previous BMW SUVs? They don't call it an interior. It's a lounge. More specifically, the Panoramic Glass Roof creates a spacious feeling and features BMW's Sky Lounge LED Roof. It changes colors to create different mood lighting in the car and is absolutely stunning.
While not the most expensive in our list, it's up there, with an MSRP reaching $92,000+. Given options, this vehicle will surpass $100,000. But it presents the best of both worlds for parents with large families. You can either buy a minivan and a BMW 7 series sedan, or a single X7… you'll be traveling in style and comfort with all of your family in tow.
Closing
We've taken a good stab hear at what we feel are the best choices for large families. Close contenders to our top ten that didn't make it are the 2019 Cadillac Escalade, the 2019 Infiniti QX50 and the 2019 Audi Q7. We're nearing 2020, and gone are the days when Big Family Vehicles meant boring and bland.