Top Ten Cars For Long Commutes
By Jakob Hansen, 9/16/2019
When you spend more time in your car, than you do in your own bed, it's time to get into the right car.
It's 5:25, you had a meeting that ran late...again. That extra 25 minutes puts you smack dab in the middle of the worst traffic time known to man. Now you're walking out to your car to brave the afternoon rush, what car do you want to be walking up to? Here are the Top Ten Best Cars for Commuting that we have found. Trust us, a couple of us have the daily hour plus commute time, we know your pain, and we're here to help.
The daily commute can be a pain worse than medieval torture. I might be remembering my medieval history incorrectly, but I'm pretty certain even Vlad the Impaler would put his worst enemies in a 1993 Ford Escort without A/C in Central L.A. 5:00 traffic. What an evil man.
I can't think of anyone I would wish that on. Especially any of you! We love driving here at Rydeshopper, and we want you to love it too! Every time you get in your car, we want you to be happy that it is your car. Whether you're hopping in to drive home in the middle of August heat, at 5:00, or heading out at 6:00 AM and a fresh coat of snow just fell over everything, we want you to get to work safely and happy. So regardless if you have a 20 minute drive, or a three hour trip every day, here are the Top Ten Cars for Commuting.
#10.
Volkswagen Passat
Volkswagen's appeal as the "people's car" has never really left their mentality. The Passat has not lost any of Volkwagen's focus on cars that appeal to our senses in more than one way. They look good, they drive great, and they get great fuel economy. It's pretty much just a great average car. The Passat can do anything you can ask of it at an extremely mediocre level. This may sound like an insult, but quite the contrary. We ask a lot of our cars. We demand large, comfortable interiors with small exterior dimensions. We want amazing fuel economy but still have enough power to merge on the highway. We must have great looks while not looking too ostentatious. And, of course, we want great features all at a reasonable price. It's hard to ride that line! And the Passat does it near perfectly. Most Volkswagens do, in fact. Which is why they make such great commuter cars.
#9.
Honda Accord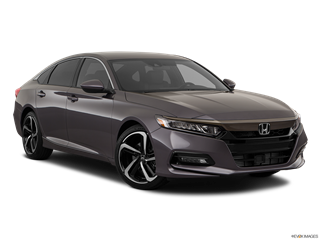 The champion of all sedans, the Honda Accord. What a classic car. Whenever someone shares with me that they just bought a new car, and it turns out to be a Honda Accord, there really isn't much I can fault them for. First and foremost, there is a reason this in the top three best selling sedans since before I knew how to count. The reliable, sporty nature of this car make the Accord the perfect vehicle for anyone who needs a practical sedan, while still caring about their driving experience. For your daily commute, you can achieve amazing fuel economy, unprecedented reliability (Ever been broken down on the edge of a busy freeway? Not fun), and genuine fun, all for an affordable price. It's a car that just works. It does exactly what you ask of it, with no talking back. Every single time. That's the beauty of the Accord. It may just be a glorified appliance, but it does that so damn well it makes the car so much more than that. Oh, you can also still get a manual, that's a plus one in my book.
#8.
Mazda 3
The Mazda 3 is taking the world by storm. Mazda's recent redesign of its brand has left us in the automotive world scratching our heads. "When did Mazda get so good?" Truth is, it's been several years now and they have started to really make a dent in the competition. The Mazda 3 is now a comfortable, pseudo-luxury sedan that also comes available as a hatchback. It looks good on the outside and even better on the inside. For an economy-class car, this thing is downright good looking. Not to mention the comfortable drive. Riding down the highway, stuck behind the slowest driver on the road, who's had their blinker on since three exits back, you're not as angry as you normally would be. It's a genuinely nice place to be. Plus the excellent fuel economy and the fact that it.s now available as an AWD sedan makes it an even better choice for those of us that have to contend with the snow
#7.
Subaru Crosstrek
Normally, I would have an issue with a car like the Subaru Crosstrek. Essentially just a lifted Impreza, the Cdrosstrek doesn't initially seem to offer much more than it's little hatchback brother. But au contraire. The Crosstrek is a fine little crossover that fits perfectly into Subaru's lineup and perfectly into most of your daily lives. The higher ride height and more SUV-like suspension give you a sense of confidence that is difficult to find in a low-budget SUV. The fuel economy is excellent as well, with up to 27 city / 33 highway, the Crosstrek competes with some of the most fuel efficient vehicles available today. The utility is also there. Standard roof rack, endless add-on options, and standard AWD make it the perfect vehicle for those of us that don't want to spend as much, have to travel far every day, and like to have a little fun on the weekends.
#6.
Toyota Prius
I mean, come on, it's a Prius, didn't you expect to see this on the list? The first real mainstream hybrid now comes in several other variations, such as the Prius Prime and Prius C. There is literally a Prius for everyone. The Prius has been molded and adapted to become the perfect commuter vehicle. Available advanced safety features included with Toyota Safety Sense 2.0 safety suite make driving safer and easier with features like adaptive cruise control and automatic braking. But let's be honest, the best part of the Prius is the hybrid drivetrain. Fuel economy is good for up to 54 city / 50 highway, and if you spring for the plug-in hybrid Prius Prime, you are good to drive up to 25 miles on electric power alone.
#5.
Volvo V90
Oh baby, the most comfortable car on this list, the Volvo V90. A personal favorite of mine, the Volvo is a car that has transcended boundaries. Once thought to be only a quirky safe car from Scandinavia, the Volvo has become one of the top selling luxury brands in the country, and for good reason. Their cars are amazing, and the V90 is the leader of the pack. The comfortable wagon shares it roots with the similarly sized S90, but the wagon adds practicality to the S90's dashing looks. The V90 has up to 69 ft³ of cargo space. That's better than a Toyota RAV4, the best selling SUV. Not to mention, this is one of the best looking wagons ever made, and I do not put that lightly. The proportions of a wagon are nearly impossible to make it look good, but the geniuses at Volvo found a way to bring it all together and create something beautiful. Top safety features and autonomous driving make your driving experience even more enjoyable, and the modern, airy cabin is a place I'd happily enough to model my home after.
#4.
Lexus ES 300h
For those of us that require refinement everywhere you go, but also have to "go" super far, the Lexus ES 300h is the car for you. Lexus is one of the last brands that still cares about real luxury, and hasn't completely switched over to purely sport luxury, though with cars like the RC F in their lineup, it's starting to look like the transition might be coming soon. Regardless, today you can go out and buy one of the most luxurious vehicles available today and with a potent hybrid powertrain to go with it. The ES is Lexus's mid-size sedan and is actually still quite affordable. Starting at $41,560, the Lexus ES 300h is an affordable (relatively) way to ride in bliss and efficiency.
#3.
Nissan Leaf
The Nissan Leaf is one of the early mainstream electric cars to come to the US. We have had the car here now for several years and it has proven itself to be a dependable and reliable electric car. For now, there isn't a massive selection when it comes to electric cars, but give it a few years and you'll start to see some real interesting cars coming our way. With up to 226 miles of range, the Leaf is no slouch and has more than enough juice to get the average American to and from work without a charge. With a range topping $42,550, the price is a bit more than most of us would like to spend on a small Nissan.
#2.
Toyota RAV4 Hybrid
Honestly, the RAV4 has become one of my go-to cars for just about any question. The reliability of the RAV4 is class leading, the fuel economy is insane for an SUV, an estimated 41 city/38 highway is amazing for any car. Now Toyota is throwing in Toyota Safety Sense as standard as well, you just can't beat this thing. If you are in need of an SUV but still care about the fuel economy, the RAV4 Hybrid should undoubtedly be one of your first options.
#1.
Tesla Model S
The Tesla Model S is the best transit car, period. There is just no arguing that. It is as comfortable as the best cars on the market today, has a more composed ride than most cars available today, and sports an interior unlike anything on the market. To top all of this off, the Model S has the best electric range of any car on the market to date. If you truly are looking for a car that can get you from your house to work and back in the best and most efficient way possible, the Model S is the way to do it.
Closing
Getting to work and back home again is a seemingly simple task, but talk to some of the people that have hour plus commutes, and that's not exactly the case. For these people, fuel efficiency is important, but it's not the only thing that really matters. You need to be comfortable, safe, and happy! Riding around in a whoopty every day for two hours a day is draining, upgrade that commuter car and get into something you love!